get a free astrological profile!
Sign up for the newsletter and I will send you a free astrological profile and birth chart too! Your feedback (optional) will help me with statistical research which will be reported occasionally in the newsletter.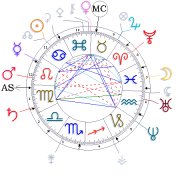 free birth chart



Get the reviews, reports and ramblings of a 21st Century wizard direct to your in-box. Free personal astrological profile for every subscriber. Your individual 'star signature' is unique - this detailed profile helps you understand how you are 'wired' and how best to make use of your unique talents and abilities.
The pop up subscriber request form should appear automatically - if not, you may need to check the top of the page to temporarily allow pop-ups for heart shaped world.


Special Offers on Readings! Sites to explore, sites to avoid, the latest tarot decks and books. Reviews of astrology books and software, the adventures of a 21st century wizard (and his cat) plus special offers... fun and free, and you get a free BIRTH CHART with a 30 page ASTROLOGICAL PROFILE too - these have been astounding people so don't miss out.









learn tarot today...


a free beginners course direct to your inbox - click here